IMPORTANT MESSAGE: To accomodate the wait list, I found new designers to partner with – see the list of Blogger, TypePad and WordPress designers below.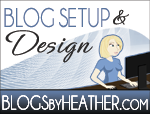 Design Partners
Please use one of these great design partners, who also have premades, or go to the bottom to view some free templates available.
Blogger, TypePad & WordPress
Blog Design Partners
I am so excited to be working with such a talented group of Blog Designers. I have spoken to each and every one of these designers and know you will truly enjoy working with them and walk away with a beautiful, professional, custom blog design. Since you will be working directly with them, I will be linking to each of their sites, their price lists, and their order forms/questionnaires and portfolio. In completing their forms, please be sure to mention that I referred you (Heather Wright-Porto, Blogs By Heather). Thank you so much! And please keep me posted and give me feedback of your experiences with my design team partners below.
Blogger Designers
---

TypePad Designers
---

WordPress Designers
---
Other Blog Design Alternatives
Custom Blog Designers is a site with a collection of blog designers listed. Many of those listed on this page, including me are on this list. You may continue your designer search on that site or other sites you may find online. I'd be happy to help with your other blogging needs or if you get stuck. Happy blogging!
Free Blogger Templates
Free WordPress Themes
Beautiful WordPress Themes for Purchase
Portfolio – samples of some of the blog designs by Blogs By Heather