Hi there!
I just wanted to drop a quick note to say that I am really behind on email! I do apologize sincerely, but I will definitely get back to you as soon as possible.  I'm doing a few a day. If you have an urgent matter, please put URGENT in the email subject.
This week is the busiest ever as I wrap up my 2nd book. It will be published next month, mid March 2011! However, it is already available for pre-order!
In short, it is "all about blogging" in many aspects and covers topics from
starting a new blog, thinking of a name, brainstorming about what to write about, good writing tips; 
following with blog layout and organization, working with images and video (from getting them from your camera/video recorder to your computer to your blog!);
to creating a blog, changing its design, setting up a custom domain, creating a blog store with PayPal buttons;
to socializing with Facebook and Twitter, as well as how to drive traffic to your blog and monitor visitors (visitor tracking);
and then finishing up with using HTML and CSS code in your blog, and where to find additional help.
It is LOADED and has instruction for Windows and Mac, for Blogger, TypePad, and WordPress users!!!!!  I will be having a webinar on this book as well!
So I have been quite busy with that but it's almost done and then I will be rolling out my new webinars! Schedule to be released shortly after I finish (where all revisions and "everything" is due by this coming Saturday).
So exciting! Much to come and I thank you so much for your patience and your support! Oh, and there will be chance to win a signed copy of this book and special opportunities to win free webinars if you do purchase either of my books! Details to come soon…stay tuned!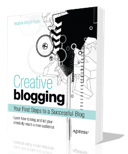 By Heather Wright-Porto
ISBN13: 978-1-4302-3428-9
ISBN10: 1-4302-3428-8
350 pp.
Published Mar 2011
Print Book Price: $34.99
eBook Price: $24.49
To purchase print or e-book:


1st Chance to Win Signed Copy 
Leave a comment here, on this post, with what you think blogging books, in general, are missing?  If my books don't have it covered (as it's hard to cover very, very advanced topics and to cover every aspect (although I tried – LOL)), then it gives me something to write more posts about so you'll still get the info you want!
If you purchase the pre-order (which really will direct to an Amazon site which has the pricing reduced!) and then happen to win the free copy, you can have two copies and give one as a gift or I will refund you the purchase of the original book (whichever you prefer).
We have a winner…Connie Collins!