I received notice today that I was featured here, on A Book Worth Reading site:
http://www.abookworthreading.com/2011/09/09/creative-blogging/
It made my day! Love when I get feedback and hear back from readers – book readers and blog readers.  Thank you so much!
I hope you enjoy reading this book as much as I have enjoyed writing it. This truly is a great resource for all bloggers – Blogger, TypePad and WordPress – and covers beginner to advanced topics.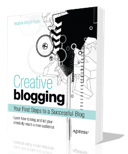 ISBN13: 978-1-4302-3428-9
Creative Blogging is an excellent resource for Blogger, TypePad and WordPress users with detailed instructions for all THREE blogging platforms; as well as commands and instructions for Windows and Mac users. I'm so excited about this accomplishment and all it brings to new and experience bloggers:
starting a new blog, thinking of a name, brainstorming about what to write about, good writing tips;
following with blog layout and organization, working with images and video (from getting them from your camera/video recorder to your computer to your blog!);
to creating a blog, changing its design, setting up a custom domain, creating a blog store with PayPal buttons;
to socializing with Facebook and Twitter, as well as how to drive traffic to your blog and monitor visitors (visitor tracking);
and then finishing up with using HTML and CSS code in your blog, and where to find additional help.
---
Don't want to wait, BUY it NOW!